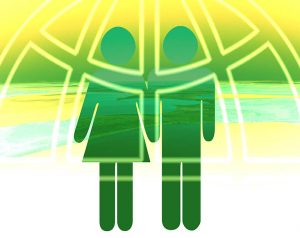 Hi my name is Alison, Ali for short.
I live in Johannseburg South Africa with my husband Shaun. We don't have any children yet, but will be having in the future. We both love kids.
My injury occurred on my 27th birthday – 04/04/97
We were living in the Eastern Cape and went out for dinner with my parents to celebrate my b-day. I have a twin brother who was celebrating down the coast, so the atmosphere was more sombre than it normally would be as we are 4 kids – 3 brothers & me & there is 3 years between us – I am the last by 15 minutes.
Shaun was driving & I was behind him in the back with my mom when he went through a red robot. A car came speeding along and hit my door, which caused the door to buckle & I was thrown out onto the tarmac, but my left leg stayed in the car & I was dragged along the tarmac for a few meters.
I fell out onto my right side [like a motorbike accident] and had this strange sensation in my right side. My face had a big graze and my shoulder disk had a deep laceration. I had cut my right eyebrow which turned out to be sutured so still today has no feeling & I have half a right eyebrow.
Surprisingly I was conscious a little disorientated but had a feeling that the other car was going to ride over me.
I asked my dad about my face and I'll never forget he gave me his used crumpled hanky [I detest hankies at the best of times]. We were whisked away in an ambulance to the hospital, and I was 'shoved' into a corner whilst the other girl from the other car [who was not wearing her seat belt] was put on a stretcher and fussed over.
My right arm & shoulder felt as if it had extended a few meters to the right – wow that burning agony – how to explain. The doc stitched my eye up, attended to my shoulder graze [or hole] and the sent me home. Shaun was sent off to be tested for drinking & driving [which came back with not a trace of alcohol in his blood]
When I got home, I think the shock, pain & reality set in, & yet I could not explain my pain to anyone – I battled to find something comfortable to wear – it felt as if a huge oaf was parked off on my shoulder – now I am a shortie as it is [5ft1] so I didn't need to be squashed further.
I was given a standard painkiller and after a few days my fingers were the size of pork sausages, I couldn't move my arm. I had to be bathed as I couldn't get the scar on my shoulder blade or my eye wet…and had to adjust to having my weak arm [left] to do things.
I went back to the doctor 2 weeks later & asked for a sling or something & he did x-rays for the 1st time – on my wrist, elbow & shoulder, but nothing was broken, so I was sent home & told to 'carry on'. After a further few days the pain became unbearable, so I went back, for more x-rays on the same area, & again nothing broken. He then consulted an orthopeadic who said it sounded like a neuropraxia. He said that due to the range of movement etc. my injury was from C1-T6. [What the hell does that mean in lay man terms?]He then referred me to a physiotherapist.
That was the only medical attention I received. My arm was paralysed completely for a year, & I wore a splint during that period, and then I began to get some movement in my arm & fingers. I had muscle chart test done, & some areas showed an improvement, but not much elsewhere. I was the referred to an orthopeadic who was forcing my arm in all directions, and caused me the same pain I felt at the time of the accident. He said that my injury would heal within weeks, and I had limited rotation movement in the wrist, elbow & shoulder.
I have been to see so many medical people regarding this injury only to pay them loads of cash for no solution or advice on my condition. I was referred to another ortho, who said that I would only have around 60-70% use of my arm due to the charts done over the years.
I was also referred to the [so-called] best neurosurgeon in SA more than a year after my accident. He sent me for x-rays on my neck, which showed that I have narrowing between 2 vertebrae, which was normal for a person my age. [I was only 27 not 97] He the lost these x-rays & sent me to a neurologist for nerve conduction tests…which were extremely painful. When I returned with the results to the neurosurgeon he avoided me. to the point that I sat in his waiting room & he had no option but to address me…he then shrugged his shoulders & said he had no idea what to tell me….carry on.
I remember the frustration I used to get doing everyday things -that one takes for granted. I decided the one day to make Shaun a chicken casserole type dish, & the recipe said I had to skin the chicken pieces – & then it took me an hour to cut an onion [all with my left hand] it took me 5 hours to prepare this meal & after 10 minutes in the oven the dish broke into 3 pieces splashing me meal everywhere – I was devastated. I also found out who my friends were, and my family thought it best to ignore the fact that I was injured badly & would act as if nothing had happened, & that I was being a hypo. All the sentiment was toward Shaun & how bad I should feel for him coz he felt guilty about the accident [which it was], and that I should show some compassion to him.
My emotions went for a loop, and I found that I would be fine, then I would try to put a jersey on & battle, get sooo angry and then burst into tears…how do you explain this to other people. My laceration on the shoulder blade developed into a scab that looked like spy vs. spy and only disappeared 8 months after the accident.
During this time, the company that I had joined 1 month prior to my accident didn't pay my wages for 3 months [I became quite good at using & writing with my left hand] they were then liquidated & I never saw the cash so we were in a bit of financial pooh, as I was not on medical aid & now had no job, but still had a car to finance…
Life Now:
Since then, I am now on my 5th physio who specialises in neck and brachial plexus injuries. She has been wonderful – the others would try and get my neck into a 360 degree turn & would hurt me bad…this one has got rid of a lot of the nerve sensation [I call it the voovoo feeling] that I had in my head, especially where my nerves in my eyebrow have been sutured. The nerves have been cut so badly that they will never grow back, but they feel as if they are desperately trying to reconnect & I get a numb burning sensation on the right side of my head….weird.
As I am in the computer software industry, I find that if I use the keyboard for long stretches, then the power in my arm fades & I am left with about 20% use for a few days.
We moved from the Eastern Cape to Johannesburg 4 years ago & after being together for 9 years, we got married in Sep 2001 in a resort in the mountains….
I am so pleased to have found this site as for 5 years I have had little info to go on as to what happened, why my condition hasn't improved or that I can go back 4 years in pain and strength and movement & then slowly pick up again. I wouldn't say that I dwell on the past or what happened to me, but there are definitely days that are better than others… My family [besides my twin brother] admitted to me last week that they never realised I had suffered so bad, and that they now know that I must have gone through quite an ordeal…it only took them 5 years, but hey at least they are a little more educated and aware of the injury.
So that is my long story – haven't had many people to tell it to, but thanks for the support I have received so far. It has been great…
Ali