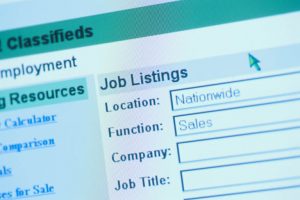 Orthosis for brachial plexus injuries
The Wilmer is a semi-passive orthosis that was developed for patients who have a paralysed arm and is particularly useful for people with a BPI with subluxation of the shoulder. It is light, typically weighing less than 250 grms., and easy to put on and remove. The main function of the orthosis is to correct subluxation by gently forcing the arm back into the shoulder joint. Any oedema present in the arm is generally relieved as a result of wearing the orthosis, and the better positioning of the hand and arm i.e. more horizontal/more than horizontal (=dorsalflexed hand)
The orthosis works by using biomechanical principles. The point of suspensionunbalances the forearm, and the unbalanced weight forces the upper arm upwards, and back into the correct position. For as long as the orthosis is in use, the upper arm and shoulder will remain in the correct position.
The orthosis consists of a forearm brace which is suspended on the shoulder at a specific point by a cap with straps attached. The cap transfers the weight of the arm evenly across the shoulder. The chest strap helps to keep the cap in place, and the positions of the two straps on the shoulder cap transmits the suspension force evenly onto the shoulder. The hand support is self adjustable to suit each individual.
Rekha's Orthosis
Rekha came to the meeting on October 27th 2002 with lots of questions about her BPI. She brought along the Wilmer Orthosis that was given to her during a visit to RNOH Stanmore, wondering if it was any use. She had previously found it difficult to put on, but Andy showed her how. I think Rekha went away a bit happier knowing that putting on and adjusting this orthosis is easier than it looked! The following pictures show the orthosis in use.
The first picture shows Rekha talking to Andy about the Wilmer Orthosis that she was given recently at the RNOH Stanmore (U.K) Andy had shown her how to put it on and adjust it.
The next two pictures show how suspension in different bore holes in the suspension bar results in a different correcting force in the affected shoulder.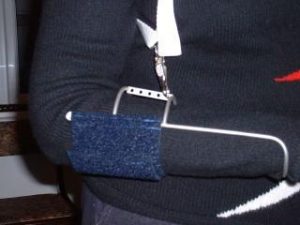 This position gives the highest correcting force.
This position gives the lowest correcting force.
The front view.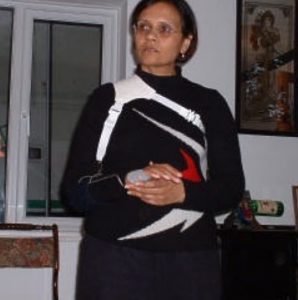 The back view is almost identical, but without the strap adjustments. Lifting the forearm with the other hand as Rekha is doing in this picture will stop the orthosis from doing what it is designed for; the upper armand shoulder will no longer be in the corrected position. However, once the arm is left to rest in the orthosis again, the shoulder and upper arm will return to the corrected position.
DISTRIBUTOR CONTACT DETAILS
United States and Canada
Becker Orthopedic
635 Executive Drive
Troy, Michigan 48083-4576
Toll free phone: 800 521 2192
Toll free fax: 800 923 2537
Telephone: +1 (0)248 588 7480
Telefax: +1 (0)248 588 2960
E-mail: mail@beckerorthopedic.net
Scandinavia
Ossur Nordic
P.O. Box 67, 751 03 Uppsala, Sweden
Telephone: +46 (0)18 18 22 00
Telefax: +46 (0)18 18 22 18
E-mail: info@ossur.com
Germany
Ortho-Reha Neuhof GmbH
Neuburger Strasse 35
90451 Nurnberg
Telephone: +49 (0)911 643 39 10
Telefax: +49 (0)911 649 22 53
United Kingdom
RSL Steeper
Leeds Manufaturing Centre
Unit 7
Hunslet Trading Estate
Leeds LS10-1BL
Telephone: +44 (0)113 2070 435
Telefax: +44 (0)113 2715 444
E-mail: richard.thomas@rehab.co.uk
Australia
Orthopaedic Appliances Pty Ltd
93-97 Webb Street
Fitzroy, Vic. 3066
Telephone: +61 (0)3 9419 2499
Telefax: +61 (0)3 9416 3543
E-mail: oapl@alphalink.com.au
Other countries
Directly through Ambroise
P.O. Box 656
7500 AR Enschede
The Netherlands
Telephone: +31 (0)53 430 28 36
Telefax: +31 (0)53 430 47 49
E-mail: info@ambroise.nl
Website: www.ambroise.nl